Please read through this guide carefully.  If you are being screen shot and you do not follow the steps as outlined below, you will be banned from our gameservers.
Enable Console
To be able to comply with the -=*BuR*=- screen shot policy, you must enable console in your game.  This will allow for a critical step that occurs during our screen shot process.   THIS is not the CHAT window.  To enable console, go to your games main menu and click on Options: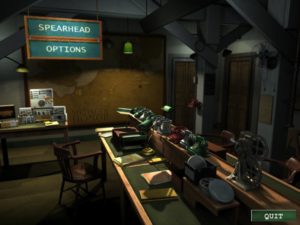 From Options, click on Advanced: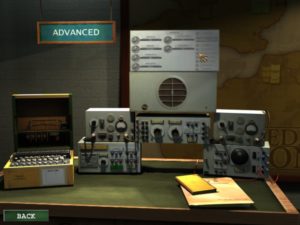 From Advanced, make sure that Console has a check mark.  Click Apply.  Your Console is now enabled.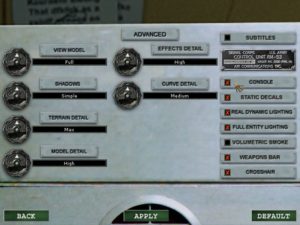 Test Console
Make sure that you test your ability to bring up the game console.  The default key to bring up the console is `.  That is usually the key under ESC on your keyboard.   When you open console it will look like this:
Resize window
With the console open, move the mouse pointer to bottom right of the console window:

Hold down on your mouse button and drag the window down and to the right.  This will make the console window fill your screen:

To close the console, press the ` key again.
Anytime that you are playing on -=*BuR*=- servers, you must be able to open the console as outlined above.
Screen Shots
If you are being screen shot,  you will not be warned before they start.  There will be up to 10 screenshots that are taken while you are playing.   Each one will have a message show under the game compass on the top left of the screen.  In the following example, you see CI-6695:

After the three screenshots are taken, you will be placed in spectator mode.  DO not attempt to REJOIN the game.  When you are placed in spectator mode, you will see something like this:

Now open your console and drag the window open as described in the first part of this guide.  Take your hands off of the mouse and keyboard and let the screenshots finish.  When they are complete, you will see the following:

The screenshots are now done.  Unless otherwise directed, you may close the console and rejoin the game.  Please follow the How to Submit Screenshots in the right column.
What NOT to do during screen shots:
Send chat messages – Do not complain, ask why, ask where to send them, etc.  Just let them finish as described above.
Face your player at walls or the ground – This is a common attempt to hide things like no-fog or no-smoke.
Fail to open console –  If you join our server and can not open console next time you are screen shot,  you will be banned.
Rejoin the game – If you rejoin the game before the screenshots are complete, you will be banned.
How to Submit Screen Shots
Do the following to submit your Screen Shots to BuR
PLEASE SEND THE SCREENSHOTS AS AN ATTACHMENT TO SCREENSHOTS@BUR-CLAN.COM
NOTE:
Please DO NOT ALTER the picture.
DO NOT convert them to a JPG.
DO NOT SEND ANY image format other tthan.GA.
If you do, we will assume they have been edited and you will be banned.
There should be about 10 images.
It is permissible to place them in a .zip or .rar file.
Find the .TGA images in the appropriate folder on YOUR computer. If you do not know where that is look at the "Where are the files?" FAQ below.
---
FAQ and other Information
Screenshot FAQ
So you have been screenshot and you have no idea what to do? Please read this FAQ before asking questions.
What is in the screenshot?
There are two types of screenshots that we take:
Simple Screenshots – The first time that you are screenshot there will be three simple captures taken. The console then will direct you on whether or not you need to send in the shots immediately or at the end of the round. You will receive an email thanking you for submitting your screenshots and directions on having Match Level Screenshots taken.
Match Level Screenshots – These are a series of 7 screenshots that include the player being placed in spectator mode and opening their game console. Full directions are available here.
I don't CHEAT! Why are you doing this to me?
First of all, everyone will be screenshot at one point or another. It is our policy. Second, crying about it doesn't help your cause. Just send them in quickly and know that -=*BuR*=- is making a consistent effort to keep the servers clean for you. DO NOT complain about the screenshots in the game or on Teamspeak.
Where are the files?
That depends on your computer Operating System and Game Version.
Windows XP
Spearhead
C:\Program Files\EA GAmes\MOHAA\maintt\screenshots\
Breakthrough
C:\Program Files\EA GAmes\MOHAA\mainta\screenshots\
Vista\Windows 7\Windows 10 (USERNAME is your computer username)
Spearhead
C:\Users\USERNAME\AppData\Local\VirtualStore\Program Files\EA GAMES\MOHAA\mainta\screenshots\
Breakthrough
C:\Users\USERNAME\AppData\Local\VirtualStore\Program Files\EA GAMES\MOHAA\maintt\screenshots\
There are no screenshots anywhere on my computer. Guess you will just have to try again?
No. That's the oldest one in the book. Find them. They are there. Send them in promptly or you will be banned.
I can not open this .tga file. What program can I use to open it?

Not necessary, please send in the screenshot files right away. Any delay will increase your chance of ban.
Can I save the files in jpg format?
The files must be completely unaltered or they will not pass the screenshot analysis. Sending in edited screenshots is an automatic ban.
I don't know how to upload or email these files.
Send the files as an email attachment to screenshots@bur-clan.com. This is not rocket science. If you are smart enough to be a good player you should be able to do this. Failure to deliver the screenshots due to computer ignorance is not a valid excuse.
Ok, you caught me. I was using some simple hack, but everyone is using it. Am I banned forever?
First off, everyone is not cheating. Second, If you freely admit that you were using a cheat your chance of having a limited ban increases dramatically. Our goal is to motivate players to decide to NOT CHEAT.
You banned me after I sent in the screenshots! Why?
Please see the Banned page to see your options.
I sent in my files and I did not hear back. Am I ok?
Our administrators will analyze your screenshots and send you a follow-up email within 24 hours. If you are unable to connect to our servers then you are banned. This may be a quick 24-hour ban due to overwhelmingly questionable gameplay. If your screens are clean the ban will be reversed. Please see the Banned? page for more info.
What is the point? All the hackers can get around these screenshots anyway.
Many of the hackers do not send in even the first set of screenshots. The more advanced hacks will be addressed using different techniques. If you are using any hacks – including no-recoil, no fog, no smoke or any form of wallhack – STOP. You will be caught eventually. Do you want all the years of your gameplay to end in a humiliating public ban?